The Art of Pomping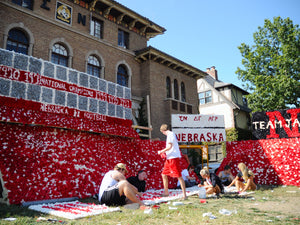 Pomping? Pomping is the Greek tradition of generating fabulous works of art out of 'pom poms' ( small pieces of scrunched up coloured tissue paper) that are creatively stuffed into enormous frames of chicken wire with a pencil and lots and lots of glue.

In the week leading up to Homecoming Day in the fall, sororities and fraternities at colleges across the country team up for Pomping Week. Everyone pitches in, spending at least ten hours of spare time away from the books and library to show school spirit and bond as a member. It's a massive job!
The completed creations then grace the manicured lawns of sorority houses on Homecoming Day for all to admire (rain, rain go away!) The finished masterpieces are so awesome and impressive that one can't help but appreciate each and every pomp that's gone into them. All the individual efforts have combined together to produce something truly wonderful. Kind of sums up the whole Greek community!
Save
Save
Save
Save
Leave a comment
Comments will be approved before showing up.